Under the Washington Consumer Protection Act, consumers can file a civil case against enterprises engaging in shady business practices. But who needs laws and lawyers when you can take the law into your own hands by writing negative reviews on Yelp, TripAdvisor, or elsewhere? (For the record, you do need lawyers to help you recover monetary damages and to stop a shady business's further deception.)
Review websites are useful because they inform the public of what to buy and what to avoid. But publishing online reviews are often done for good and evil. These wronged hotel customers tried to exact justice in their own way. And because we are in the business of doling out justice, we rate their efforts on a scale of 1–5 stars based on creativity, credibility, and level of bizarreness, with 5 being the highest.
A collection of too-real TripAdvisor hotel reviews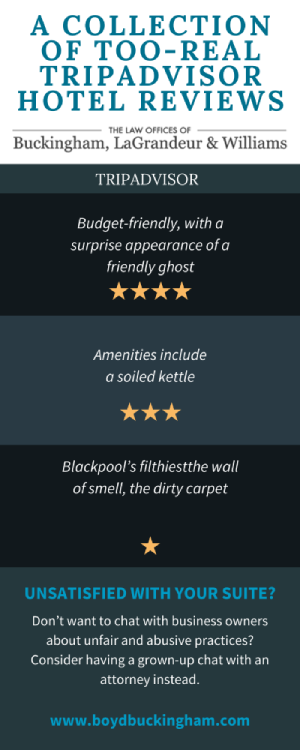 Before, hotel guests had to write letters to the management to give praise or complain — with a salutation, proper punctuation, and other things many people today would find quaint. Nowadays, people use TripAdvisor. See how we rate these reviewers who knocked themselves out expressing dissatisfaction with their accommodations.
Budget-friendly, with a surprise appearance of a friendly ghost – According to one reviewer, Room 303 of the Bould Al Olaya in Riyadh, Saudi Arabia is haunted. Her kids were watching Tom and Jerry when the spook decided to pay a visit. Despite that, she gave the hotel's location a five-out-of-five rating, so maybe they enjoyed the visitor's company. ★★★★

Amenities include a soiled kettle – Out of all the items in a hotel room, a guest at Bluebird Hotel in England chose to highlight a manure-covered kettle. But it's not just the kettle. This reviewer also noted the room's non-closing windows, rude staff, the lack of hot water, and dirty utensils. However, nothing quite sticks in the mind as droppings on a kettle. ★★★

Blackpool's filthiest – A reviewer of a Blackpool, England hotel had the misfortune of checking in at a room that he claimed looked like a former drug den. Chief among his complaints were the wall of smell, the dirty carpet, "walls covered in blood and sick," offers for drugs, and a peeping tom manager. It was all too cinematic to be believed. ★
A bad review for an Indiana inn
Ever checked your hotel bill for "negative feedback charges"? You may find yourself paying for such charges when it becomes imminent that you're unhappy with a hotel's service, such as when you publish a negative review of your stay while you're still checked in at the hotel as in the case of Katrina Arthur.
In 2016, Ms. Arthur published an online review of her stay at the Abbey Inn, saying the hotel "smelt like sewer." She paid $240 for her stay but was charged an additional $350 four days later for her disparaging comments.
When hotel co-owner Andrew Szakaly got wind of the review, he pretended to be the hotel's legal representative. He then sent her a letter containing what is presumably a legalese-filled threat saying that the hotel would sue her for libel if she did not take down her review.
Things did not go in favor of the hotel, which eventually closed down.
The case raised a relevant point about consumer protection: while business owners have a right to challenge negative reviews, they should not be charging unhappy clients for expressing their views. Put another way, hotels that do smell like a sewer (or worse) must be called out. ★★★ for sneakiness
The hotel that refused to be influenced
The name-and-shame case involving a social media influencer and an Irish hotel gets five stars for entertainment value, which interestingly resulted in zero lawsuits.
In 2018, YouTuber and influencer Elle Darby emailed a proposal to Charleville Lodge Dublin (which also goes by the name The White Moose Cafe on social media) for business collaboration. Ms. Darby essentially asked for a free stay in the Dublin lodge in exchange for exposure on her YouTube channel and various social media platforms.
Hotel owner Paul Stenson took this to mean as a proposal to be paid in exposure (rather than money), which, to be fair, is a form of currency nowadays. He said no.
His infamous rejection that went viral taught influencer marketers a lesson or two about free-market capitalism and self-respect. It also launched a social movement that protects the rights of hotel staff worldwide. Just kidding — it simply became a charming little anecdote that will be passed on by bloggers and hoteliers for generations to come.
This case is a fine example of how the court of public opinion can be at once chaotic and entertaining. It also tends to result in highly unpredictable outcomes for the parties involved. ★★★★★ for going viral
Unsatisfied with your suite? Be a grown-up and have a grown-up chat with the hotel manager. Don't want to chat with business owners about unfair and abusive practices? Consider having a grown-up chat with an attorney instead.